By Kelsey Litchfield, Podcast Host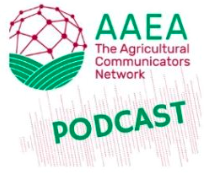 I didn't jump on the podcast train until the summer after my junior year of college – 2016 to be exact. The first podcast I ever listened to was "How I Built This" with Guy Raz of NPR. I was hooked – the stories were incredible!
Fast forward a year to Ag Media Summit in Snowbird, Utah. It was the last day of the conference and I was super bummed that I didn't attend all the workshops I wanted to. All of the topics were so good, but I couldn't be in more than one place at one time. I thought to myself – how could I get this AMS quality content all year around? Boom, the podcast was born.
I approached Holly Spangler of Prairie Farmer later that fall after I had more time to think on my idea. The podcast scene was booming, and I wanted to find an organization to partner with. Holly mentioned bringing the idea to the AAEA board. We created a proposal, cover graphic, intro and outro recording, and so much more. Organizing logistics for a podcast isn't easy – I'm thankful for the whole committee that came together and brushed those details out. After 6 months of hard work, the podcast launched in May 2018.
Each month, the podcast brings on a guest expert with a topic in mind. Those themes have ranged from editorial to young professional. In AAEA, our members cover a lot of ground and we want the podcast to be of interest to membership. We can all learn a thing or two from each other. Even though I'm not a graphic designer, I want the audience to learn something they can use in their own career even if they never have to touch the Adobe InDesign program. We're all communicators and we all wear many different hats.
Thank you to the guests we have had – they have given their time and knowledge to us through this podcast. I never had someone say "no" to me about being on the podcast and I truly thank you for your "yes" and sharing information that allows other members to succeed. Thank you to Holly Spangler, Samantha Kilgore, and the AAEA staff for all of your support. This project is truly a team effort! And last, but not certainly least, thank you to all of the listeners. I hope this podcast has been a valuable resource to you and that you share it with other podcast listeners.
If you want to catch up on past episodes, you can visit here, or listen on iTunes, Google Play, Spotify, and PodBean. Click on those hyperlinks or just search "The Ag Comm Network Podcast." Every time a new episode launches, it will be featured in The Byline or you can hit the subscribe button in iTunes, Spotify, etc. and you will be notified on your smartphone or smart device. As always, I'm taking suggestions for topics and guests. I want this to be a crowdsource project as this podcast is truly for its listeners. Let me know who you would like to hear from or what you would like to know more about. We can never stop learning. You can send those suggestions to [email protected]. If you want to be a part of this project or curious.