By Katherine Wist, 2019 AAEA Summer Intern, Senior Agricultural Communications and Journalism, Kansas State University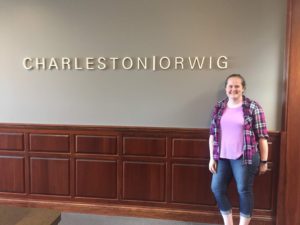 The AAEA Marketing Internship was a unique experience, from working at a full-service agency to helping direct traffic to load busses during Ag Media Summit. This one of a kind experience was amazing and gave me firsthand experience in agency life. For myself and many others not only is the type of job important but the company culture is equally important.
This Summer I was able to serve as the AAEA marketing intern at Charleston|Orwig in Hartland, Wis. When I got there, I was able to hit the ground running helping plan Tech Connect for the Illinois Soybean Association, which was my main project through the summer.
I knew that this internship would push me out of my comfort zone and it did just that, as well as helping me to grow my communication skills. I mainly worked with the account service team but was lucky to get to work with the creative team as well, especially on the agency's social media.
This experience allowed me to watch many amazing people work through many different challenges. This gave me insight into what questions to ask my future employer to make sure the company is the right fit for me.
I can't thank everyone at AAEA and Charleston|Orwig enough for the amazing opportunity and the great summer of learning that I had. Reflecting on my time, I've learned a lot about myself and what I want to do after graduation. I not only learned more about marketing but agriculture as a whole.
To any students trying to decide to take a chance on an internship several states from home that's outside of your comfort zone – do it. It might be stressful and hard at first, but it will be worth it in the
end. After this summer I am excited for my future after my upcoming senior year at Kansas State University.