By Kelsey Litchfield, Ag Comm Network Podcast Host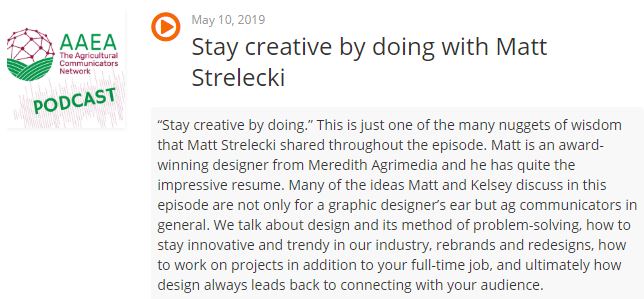 CLICK HERE TO LISTEN ON ITUNES
CLICK HERE TO LISTEN ON PODBEAN
CLICK HERE TO LISTEN ON GOOGLE PLAY
I love that title – "stay creative by doing." This is just one of the many nuggets of wisdom that Matt Strelecki shared throughout the podcast episode today. Matt is an award-winning designer from Meredith Agrimedia and he has quite the impressive resume. He previously worked as the executive director of design for Meredith Books and was the lead creative for many impressive projects that we talk about throughout the episode.
Many of the ideas Matt and I discussed are not only for a graphic designer's ear but ag communicators in general. We talk about design and its method of problem-solving, how to stay innovative and trendy in our industry, rebrands and redesigns, how to work on projects in addition to your full-time job, and ultimately how design always leads back to connecting with your audience. This is some good stuff that will have you pausing and reflecting!
Be sure to check out Matt's online portfolio which he refers to throughout the episode, and follow his Instagram account – @hipstamaddiction. Matt and I also briefly discuss an article from the Design Management Institute called "The Value of Design." Many great resources to get inspiration from!
Also, I want to recognize that the podcast is hitting its one-year anniversary this month! Thank you to everyone who has tuned into an episode, sent feedback, guest recommendations, etc. Also, thank you to our guests we have interviewed for giving us your time. You have shared your wisdom and knowledge and I can't thank you enough. And also, a shout-out to the AAEA staff and Holly Spangler for their work on this podcast. It's a team effort!
Please let me know if you have any topic and/or guest suggestions – would love your input. Send me an email at [email protected]!