Grant Applications Extended to October 9. Use the buttons below to apply!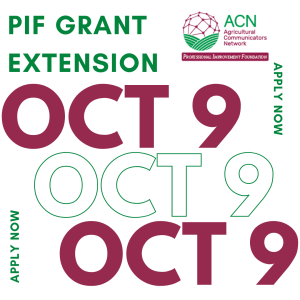 Your donation paves the way for advancement and education for Ag Media Professionals!
You can also make a contribution by contacting the AAEA office at (706) 407-2550, or sending a payment by mail. Make checks payable to the AAEA Professional Improvement Foundation and mail to:
AAEA Professional Improvement Foundation
P.O. Box 1444
LaGrange, GA 30241
PIF is exempt from federal income taxation under Internal Revenue Service Code Section 501(c)(3). Contributions to the Foundation are tax-deductible. If your employer matches tax-deductible contributions, please submit your contribution through your employer. The Foundation's tax identification number is 36-3540-723.
Need a Reason to Donate? We'll Give You Three!
The Professional Improvement Foundation (PIF) is a member-directed non-profit organization that provides funding, direction, and input for a wide variety of programs and activities that benefit AAEA members, and helps advance the agricultural communications profession.
Here are three reasons to give to the AAEA Professional Improvement Foundation:
Pay it Forward: Have you received a stipend for Ag Media Summit, or attended the IFAJ Congress in part because of funds from PIF? This is your chance to pay it forward so your peers in the industry can have the same exciting opportunities for growth and advancement.
Pave the Way: Each year, PIF provides scholarships and internships for students in agriculture communications. These students go on to work in the media industry, join the organization, and make an impact on the profession as a whole. Giving to PIF means opening the path for these students to become excellent journalists, PR professionals, photographers, designers, publishers, and more.
Practice Excellence: PIF makes programs like our Communications Awards contests in writing, photography, design, digital media and marketing possible. PIF provides grants for regional workshops, webinars, and the Ag Media Summit. Through participation in these programs, you'll refine your craft, practice excellence, and make strides in your profession. Giving to PIF is an investment in the future of the organization and your professional development.
Ann Hess
Cheryl Tevis
Cody Ramey
Delmar Deterling
Dolores Shearon
Elaine Shein
Gene Johnston
Gilbert Gullickson
Gregg Hillyer
Gregory Lamp
Harlen Persinger
James Dickrell
James Evans
Jennifer Shike
Jennifer Whittaker
Jessica Scott
John Pitzer
Karen Simon
Katherine Knapp
Martha Mintz
Megan Schilling
Monte Sesket
Samantha Kilgore
Sara Wyant
Steven Mercer
Steven Weblow
Thomas Curl