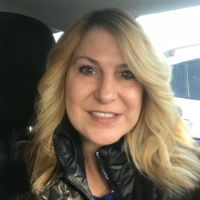 By Martha Mintz
It was the tantalizing topic of dairy manure lagoons that lured newly appointed AAEA-Ag Communicator Network board member Jennifer Kiel to the world of ag journalism.
"I didn't grow up on a farm. I was one generation removed. My mother grew up on a farm, though, so we spent time on my grandparent's farm growing up," Kiel says. Though unexpected, fate determinedly nudged her toward a career chronicling agriculture.
Her skill at writing was noted early in life as she was invited to join her high school newspaper program—a junior and senior only program—as a sophomore. She served as the editor the following two years and continued to work at newspapers full time while she pursued a degree in business management.
While writing for the Clinton County News, which has a large dairy base, Kiel found herself researching and covering the topic of dairy manure management. Her work was noted by the Michigan Farm Bureau director of communications, Dennis Rudat (also now an AAEA member), and he quickly snapped her up, officially launching her career as an ag journalist.
The skills she picked up working in newspapers for more than a decade helped her excel as an editor, especially her time as the sports editor at a daily.
"I was covering 8 schools. The games would get over between 9:00 and 10:00 p.m. and all the coaches would call me with their stats. The newspaper had to be out by midnight, 1:00 a.m. at the latest. I'd take the calls, write the stories and hit the light table with the X-acto knife to axe copy onto the pages. All that stuff is automatically done for you now, but it used to be a huge process. It taught me a lot about time management," she recalls. The experience she gained taking huge group shots of teams has proven useful as well.
Though her first subject matter of manure lagoons are a worthy ag topic, Kiel has since moved on to cover the breadth of agriculture in her time as the Michigan Farm Bureau State communications and public relations manager and in her current role as editor of Farm Progress' Michigan Farmer and Ohio Farmer. Her favorite project each year is bestowing the title of Master Farmer on the best of the best farmers in her region.
"The Master Farmer program lets me showcase farming at its finest. I get to highlight these people who come from diverse and rich cultural backgrounds in not just farming, but in their communities as well. It's such a pleasure to meet them and tell their stories. It really energizes me each year," Kiel says.
Showcasing others brings her joy, but Kiel is a well-decorated member of her own profession. Among other awards, Kiel earned the distinction of AAEA Master Writer in 2006 and the elite title of Writer of Merit in 2017, which is only achieved by those that have placed or earned a judge's merit point in 10 of the 11 AAEA Writing Awards categories. It was a team story series on the shortage of agricultural educators in Michigan that bumped her into the exclusive ranks of Writer of Merit.
"I'm very proud of that achievement. It was a great collaborative piece of writing on a crucial topic," she says.
Kiel joined AAEA in 2003, attending her first Ag Media Summit just before her start date with Farm Progress. Mike Wilson, who hired her and whom she credits with being highly influential in her involvement with AAEA, insisted.
"AMS was so important to Mike and Farm Progress that even though my hire date was August 11, they sent me to AMS before I officially started. I've been to every AMS since," she says.
Connecting with her peers each year is a recharging experience for Kiel who, like so many in the profession, works from a home office.
"It's exciting to get together with a group of talented people who are doing the same thing I do and are passionate about it, too. I look forward to conference every year and always come home feeling enlightened and energized about my career," she says. "It's great meeting up with old friends and making new ones."
Before joining the AAEA-Ag Communicator Network board, Kiel spent 6 years on the AAEA Professional Improvement Foundation (PIF) board.
"Being on the PIF board, it was really inspiring to see how we could work to advance other journalists and bring in new journalists through scholarships and programs," she says. "I look forward to serving on the AAEA board to explore another dimension of the organization."
In her spare time Kiel likes to volunteer in her community as well, serving on a variety of committees over the years and currently serving on the Board of Directors for the Michigan 4-H Foundation and the local Meals on Wheels program. She has two children, Elizabeth, 24 and Emily, 22 and gained three step children, Victoria, 26, Jessica, 24, and Hunter, 20, when she married her husband, Christopher Kiel in 2013. She enjoys camping, gardening, cooking and snow skiing.