By Kelsey Litchfield, AAEA Podcast Host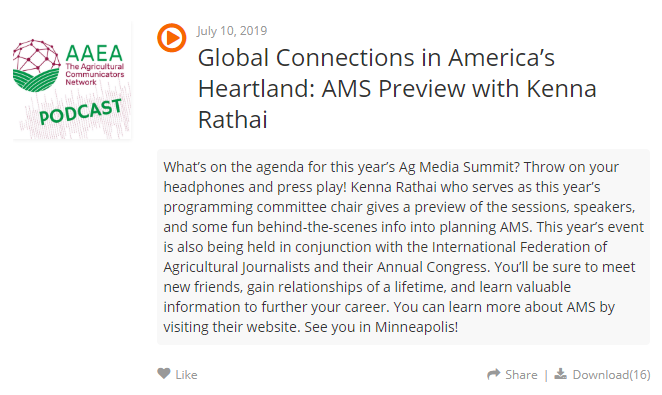 CLICK HERE TO LISTEN ON ITUNES
CLICK HERE TO LISTEN ON PODBEAN
CLICK HERE TO LISTEN ON GOOGLE PLAY
It's summer and many of you know what that means – time for Ag Media Summit! This is my 6th year attending and I'm excited to drive off to Minneapolis for this year's event.
This year is a special event as the International Federation of Ag Journalists (IFAJ) is hosting their Annual Congress alongside AMS. Just think of how many international friends you can make! I'm excited to get to know them and learn more about the work they do.
In today's episode, Holly Spangler and I talked with Kenna Rathai, AMS programming committee chair, to discuss the sessions and speakers for this year's event. Kenna also shares behind-the-scenes information into how the committee picks speakers and topics – it's like a big puzzle!
Throughout this episode, I keep asking how I'm going to clone myself because there are so many great sessions on the agenda. A huge thank you to Kenna and her programming committee and all the staff and volunteers who plan this huge event. The idea of this podcast was born at AMS and you truly leave the event with motivation to better yourself in your career.