By Emily Berger, AAEA Intern, Texas A&M University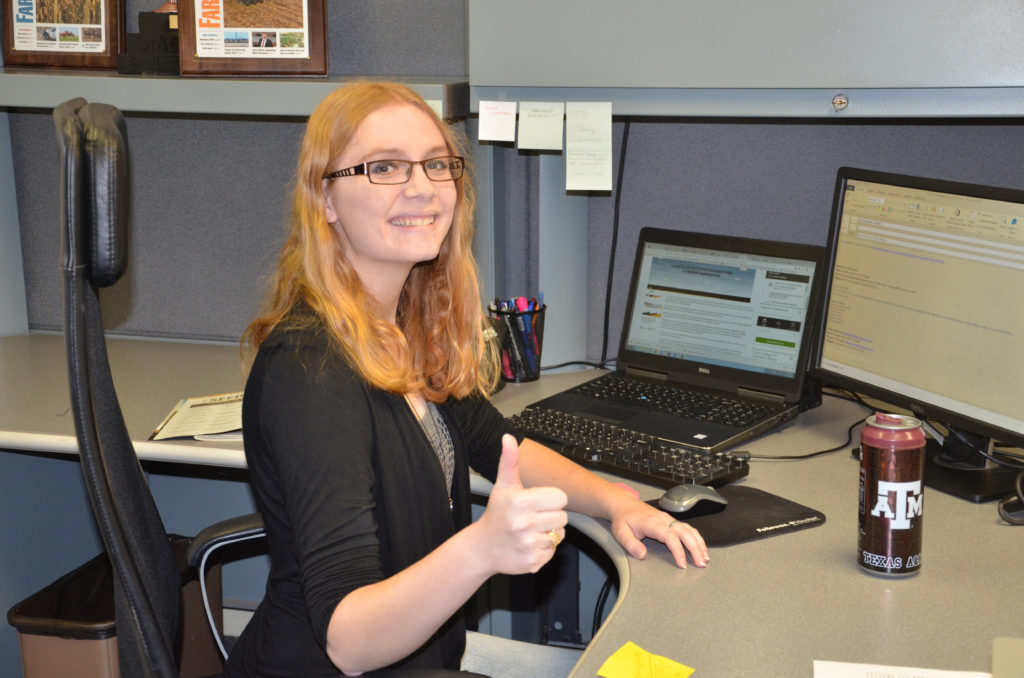 One year ago, I was sitting in a poultry barn as my life plans crumbled around me. The clucking of hundreds of hens would normally make me feel at home, but after three months of interning, I still felt like a stranger within those walls. My daily drive past the slowly growing rows of Iowan cornfields gave me plenty of time to think. It didn't take me long to realize the career field I'd been working toward for the last two and a half years—poultry research—was not the one for me after all. I returned to Texas feeling like a failure.
This year, I was understandably nervous going into my editorial internship through AAEA. I'd had such high hopes for last summer's internship, only to find out it wasn't what I wanted to do. What if the same thing happened this summer? What if I was stuck in a corner and forgotten for three months? Or, even worse, what if I—a random girl from Texas with more animal husbandry and research experience than anything else—wasn't good enough to do the job? The more my excitement grew, the more I tried to shove it away.
On day one, I discovered I had nothing to worry about. When I arrived at the office, Susan Luke, our editorial director at Farm Journal Media, sat me down to tell me about the company, its many brands, and the people I'd be working with in the coming months. She talked about the importance of having "dirty boots," that our experiences out in the barns and fields play a vital role in shaping the stories we tell. I smiled and clicked my black cowboy boots together underneath my chair. Now this was starting to sound more like home.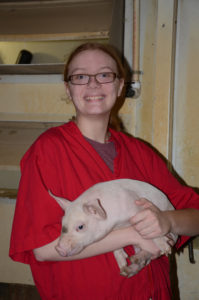 Within my first week, I was given the opportunity to publish several bylined articles on the PORK website. As JoAnn Alumbaugh, our PORK editor and my primary supervisor, said, I "jumped in with both feet," and I did so gladly. I had my dirty boots on, and they were built for hard work, long days and unfamiliar roads.
Over the course of the summer, I grew in my relationships with my coworkers, who in turn helped me grow in my skills as a writer. Each story they assigned me taught me a valuable lesson. Writing about Bt resistance showed me I have a lot to learn about agriculture outside of poultry, but I can still write something relevant on a topic that is new to me. My article about waste management in hog barns proved my poultry experience can relate to other fields, so I should always be looking for those connections as I continue to learn. And my piece on plant-based proteins brought my bias for animal agriculture to light, forcing me to address my prejudice and achieve a balanced view as a journalist.
In my time with Farm Journal, I worked most closely with Sara Brown, our livestock digital content producer in the Mexico, MO office. Whenever I had a question on how to phrase a headline or on what content to post that day, she was always there for me. She proofread all of my stories for the website and gave me advice or additional assignments every time I poked my head into her office. She even baked brownies for us one day. Right before my internship ended, she left a gift for me in my office.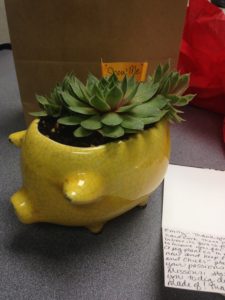 I pulled aside the red tissue paper to reveal a small yellow pig planter containing a "hens and chicks" succulent and an orange banner that read "Show Me," the Missouri state motto. As I read the note she'd included, it was all I could do to hold back my tears. I'd loved my time with Farm Journal, and getting to know Sara, and I wasn't ready for it to end. In her beautiful cursive script, she told me to keep learning new things and to show the world what I was made of, but to always, always stay true to my roots.
I returned to Texas just a couple days ago, this time with newfound success. Whenever someone asks me how my internship went, my eyes light up and I can't help but smile because it was amazing. This year, I found something I could truly see myself doing for the rest of my life. I still have one last year of school left before I graduate, but now I can approach my studies knowing I'm working toward a career I'm going to love. And wherever I end up, I'll make sure to wear my dirty boots.