By Kelsey Litchfield, Host of the Ag Comm Network Podcast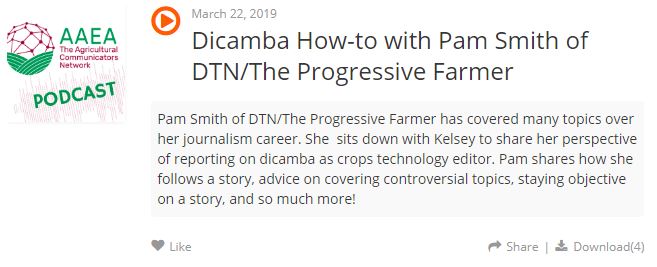 CLICK HERE TO LISTEN ON ITUNES
CLICK HERE TO LISTEN ON PODBEAN
CLICK HERE TO LISTEN ON GOOGLE PLAY!
On this month's episode of the Ag Comm Network podcast, Pam Smith of DTN/The Progressive Farmer is my guest and we are talking dicamba. Yes, you read that right! Pam is sharing her perspective of covering this controversial topic and leads us through her coverage, how to stay objective, and what she would have done different while writing her stories. This episode is jam-packed with some pretty solid takeaways so here's a sneak peek.
Dig deep for information – do your homework and research
Keep your boots muddy and show up
Stay objective by having a close team
Communications will always be required, no matter the format
If you get out and talk to people, you'll always have something to write about.
Good stuff, am I right? You won't truly know until you listen! And that's not all the truth bombs that Pam shares on this episode! As we look towards spring, this episode will walk you through covering those not so easy topics that we all know will pop up. Prepare now by listening to this episode.
You can follow Pam on Twitter at @PamSmithDTN. You can follow myself on Facebook at @KelseyLitchfieldMedia. Subscribe to the Ag Comm Network Podcast on iTunes, Google Play, Podbean, and Spotify. Thanks for tuning in!