By Kelsey Litchfield, Podcast Host
CLICK HERE TO LISTEN ON ITUNES
CLICK HERE TO LISTEN ON PODBEAN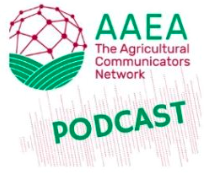 On today's episode of The Ag Comm Network podcast, we're flashing it back a month to Ag Media Summit! Thanks to John Blue of Truffle Media Networks, we are able to share the audio version of my podcast workshop session with Sara Steever in Minneapolis. Sara is the president of Paulsen and host of the Spark: Careers in Agribusiness podcast.
If you want to know what it takes to have a podcast, this
episode is filled with best practices on planning and research, promoting your
podcast and attracting new followers, how to repurpose content from episodes,
and so much more! You are able to download our presentation slides by clicking here
and following along with Sara and I as we take you behind the scenes of
podcasting and how to take it to the next level.
Be sure to check out Sara's podcast, Spark: Careers in
Agribusiness. The podcast is available on iTunes,
Stitcher,
and iHeart
Radio!
If you have questions from this episode, please don't hesitate to reach out to me via email at [email protected]. I can connect you with Sara as we would love to able to offer advice about podcasting.