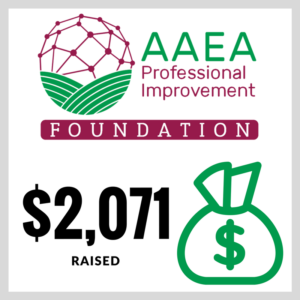 Thank you to everyone who supported the AAEA Professional Improvement Foundation on #GivingTuesday! Every donation, conversation, like, share, and retweet helped us raise money for professional development for our beloved ag communicators.
Thanks to your contributions prior to, on, and beyond #GivingTuesday, we raised  $2,071 as of today! Your support will make an impact in the lives of ag media professionals across the nation, from scholarships and stipends, to workshops, webinars and other learning opportunities.
Help us reach our goal of $5,000 in individual donations to continue this heritage of professional excellence year after year! Encourage your colleagues to join your efforts in sustaining our foundation and supporting our industry.