Learn valuable information from our industry pros and join the discussion.
Not a member? Enjoy a free webinar on us!
Planning and Setting Goals
For ag editors and communicators, there's never a time when you aren't busy. As harvest wraps up, and farmers and ranchers start planning and decision-making for the 2019 season, ag editors and communicators are doing the same. Whether it's setting professional goals, personal goals, or creating a budget for content for the upcoming year, putting a plan in place is the first step toward reaching those goals.
The Makings of a Great Writer
What does it take to create that "winning" story? How do great writers gain inspiration for story ideas? How is agricultural writing different from other parts of the industry? Hear from two of AAEA's decorated writers: Gil Gullickson, 2018 Story of the Year winner and Steve Werblow, 2018 Writer of the Year winner. Join moderator Jamie Cole to discuss these topics, and learn how Gil and Steve crafted their award winning stories!
How to Navigate Workplace Dynamics
Starting a new job, changing positions or just finding your place at work can be intimidating! Hear tips for journalists and communicators getting started in ag, including working with seasoned veterans in the field and people of various generations, asking the right questions in interviews, and maintaining credibility while learning the ropes.
How to Advocate for Yourself and Your Story Ideas
Have you ever wanted to write THAT story, but hit a roadblock because you couldn't get the editor on board? Or have you wanted to attend a conference or event, but were told it wasn't in the cards? We're bringing together three experts to share their tips and insight on getting what you want.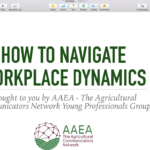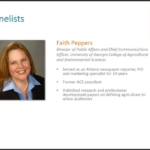 Ag Writing Doesn't Always Follow the Rules
Writing in ag can certainly be a challenge--even more so when industry specific jargon and terms get involved. What's the best way to handle those instances when you need to follow AP, agency or publication style guidelines, but also need to use language that doesn't always follow the guidelines?
The Best of Time Management and Staying Organized
Ever feel like your calendar and to-do list are going to explode? Too much work, not enough time? Between personal and professional life – how do we balance it all? Hear from the experts of time management and how they stay organized each day, even with the most hectic of schedules.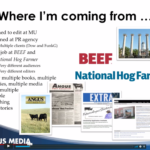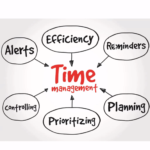 Working With Mainstream Media to Avoid a Potential Crisis
Take an inside look at handling a high-risk media inquiry from the Chicago Tribune. Last summer, the Chicago Tribune published a series of negative articles that focused on the Illinois hog production industry. The Maschhoffs was one of several companies approached to discuss a variety of topics, including animal care and the environment. 
How to Get Involved in AAEA
Wanting to get involved with AAEA, but not sure where to start? Learn what different committees are available, what each does and how you can get connected with those groups. Hear from AAEA veterans Mike Wilson, immediate past president; Julie Deering, current president; Christy Couch Lee, president-elect; and Amy Roady, membership chair.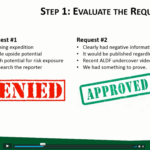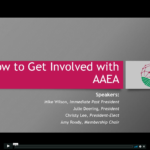 Putting Social Media to Work
Any type of promotional plan today includes a social media component. But how can agricultural companies best utilize social media to promote themselves or their clients? AAEA Young Professionals and Syngenta are pleased to present a panel of seasoned social media professionals who will share with us best practices for social media in agriculture.
How to Select that Winning Entry
It's that time of year again-- time to begin thinking about which articles and photos you want to submit to compete in AAEA's annual Communications Awards Program. We want to hear your name called up on stage. Don't you?