By Christy Couch Lee, AAEA President
Throughout my 19-year career in the agricultural communications industry, I have witnessed many mentors for whom I have the utmost respect in the role of AAEA president. Now, to be stepping into this role, myself? Well, it's a bit daunting. A bit exciting. And definitely an honor.
My husband, Craig, and I have three children: Waylon, 13, Nolan, 10, and Caroline, 6. And our family's hobby and "sport" is showing cattle – Hereford cattle, to be exact. We've just wrapped up our summer show season, and we've now taken to studying sale catalogs and visiting with breeders about purchases for the coming year.
Show heifers can come with a pretty hefty price tag. And although we'd love to shop without restraint, our budget just won't allow for it.
So, we must make decisions that result in quality genetics within our kids' show halters, and purchase prices that keep our budget in the black.
This mindset will also be the driving force for the coming AAEA year. We've had a few setbacks in the past year, financially, and we are determined to make it right again.
The 40,000-foot view. (overall numbers from AAEA's budget)
This past fiscal year (Aug. 2017 through July 2018), AAEA spent nearly $199,000 on association programming and operations. Alternatively, AAEA brought in $175,000 in income, leaving us with a $24,000 deficit.
How did this happen?
AAEA board and staff work to create a conservative budget, anticipating income and expenses each year. Unfortunately, two of AAEA's major sources of income, the Ag Media Summit and corporate sponsorships, fell short in 2017, leaving the association without nearly $30,000 of anticipated income.
Does AAEA have money in savings and reserves?
Yes! In preparation for tight financial times, the AAEA has nearly $50,000 in savings. Also, AAEA has access to professional programming support through the AAEA Professional Improvement Foundation. PIF has more than $300,000 in investments.
What is the plan moving forward?
AAEA has created a Finance and Budget Taskforce to help review and further refine the budget. This committee will review expenditures and income for opportunities to lower costs and increase revenue generating programs. The taskforce's goal will be to remain conservative and realistic on both annual expenses, and anticipated income.
What can the membership do to help?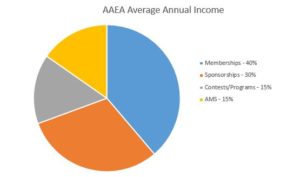 Renew and rally! Nearly 40% of AAEA annual income is from membership renewals. So, first, THANK YOU for your continued support, and please recruit your colleagues to join this organization!
Secondly, speak up! As we dive into programs for the association, we want to know what is important and valuable to you.
Additionally, our sponsorship committee needs help from members like you to make contacts who will benefit from partnering with AAEA. Contact Jessie Scott to get involved with the AAEA sponsorship committee.
Transparency is critical – and this is your association. Working together, we will thrive financially, again.