By Kelsey Litchfield, AAEA Podcast Host
CLICK HERE TO LISTEN ON ITUNES
CLICK HERE TO LISTEN ON PODBEAN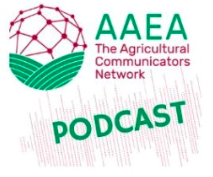 Today on the podcast, Amy Roady of Illinois Soybean Association shares powerful insight into her role as director of communications for a membership association. From budgeter to communicator, Amy wears many hats in her role, and she shares stories of how not one day is the same in her profession.
In this episode, Amy also shares why you should find volunteer opportunities that fit your skill set, how communicators can stay up to date on emerging media trends, about how associations have the influential power to connect professionals and build relationships, and so much more.
As you listen to this podcast, Amy has some great action items when it comes to being an active member of an association and it led me to think of all the opportunities AAEA has presented me! AAEA is moving into membership renewal season and I encourage all of you to not only renew your membership but also invite a friend to join. This network has been such an important part of my career and we always want more friends to come and learn alongside us.
Thanks again to Amy for coming on the podcast – you can follow her on Illinois Soybean Association's website, on Twitter, and Instagram!