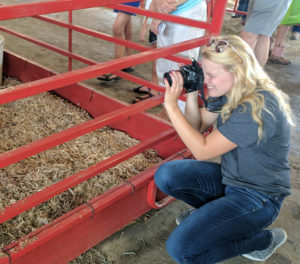 Name: Emma Wilson
School: Iowa State University
Major: Double major in Agricultural Communications & Journalism
Classification: Graduating Senior 
What are your career aspirations? I aspire to continue to grow my journalism skills and become a better all around agricultural writer from feature stories to news articles. I welcome the opportunity to freelance for well known publications while still actively involved in my family farming operation in west central Iowa. I also enjoy blogging on farm life. Check out my website and portfolio at emmawilson.org.
Why did you join AAEA? After attending Ag Media Summit in the summer of 2017, I connected with so many students and agricultural journalists from across the nation. I believe I've found mentors within AAEA and want to continue to grow my network both within and outside of the organization. AAEA has an endless number of opportunities to find story ideas, stay up to date in the world of agricultural journalism, as well as both personal development and career opportunities. I consider myself a lifelong learner and I do believe the best way to learn is from mentors you look up to and idolize. I've been lucky to have found many within AAEA.