By Kurt Lawton, event co-chair
The IFAJ/AMS 2019 Global Congress steering committee met Thursday, September 20, at the event's DoubleTree Hilton hotel in Bloomington, Minnesota to continue planning this not-to-miss event.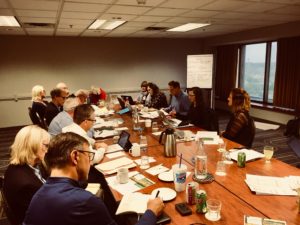 Working with my co-chair Carey Brown (cbrown@kycattle.org) and dozens of AAEA and LPC members, we're excited as the U.S. will once again host the prestigious IFAJ Congress in conjunction with our Ag Media Summit. This is your opportunity to meet and interact with both international agricultural editors and communicators as well as top domestic journalists in one location.
"Global Connections in America's Heartland" is our theme for next summer's Congress. The dates to mark on your calendar: IFAJ meeting starts on Friday, July 26, 2019; AMS will start on Sunday, July 28 and we adjourn on Wednesday July 31. There will be overlap of activities during the event, and you'll have the opportunity to register for both IFAJ and AMS.
Some of you will remember the summer of 2009 when we last rolled out the red carpet for our 150 to 200 international guests in Fort Worth, Texas. Here's an update of what's in store for attendees in Minnesota:
An excellent program for both IFAJ and AMS that features an expanded variety of both newsmaker topics and professional development sessions. Program chair Kenna Rathai (krathai@broadheadco.com) and her committee are working on news topics like press freedom, biotech, food safety, trade and farmer challenges. Professional improvement sessions being developed offer timely topics on writing, photography, design and video, along with session tracks for public relations and sales professionals.
Local tours co-chairs Greg Lamp and Karen McMahon have built an excellent diversity of tours for our IFAJ guests. They will choose from dairy, swine, beef, row-crops, fruits, vegetables, precision tech, university research, seed research, grain transportation, breweries, wineries and city tours. (We're looking for more Minnesota volunteers to help with tour organization, bus/travel help and more. Contact greg.lamp21@gmail.com, karenkmcmahon@icloud.com or Kurt.Lawton@farmprogress.com.
Regarding IFAJ Post-Tours, we'll offer three options: 1) Visit California to experience the state's crop and livestock diversity—from almonds, strawberries and wine to beef, dairy, even discuss water and energy issues; 2) Visit Wisconsin for an amazing dairy, cheese, crops, wine and beer extravaganza; and 3) Experience Minnesota/South Dakota/Iowa's large precision tech, grain, beef, dairy and swine farms. Also visit university research farms and equipment/precision tech manufacturing. All tours begin July 31st and will include some fun stops as well (from wineries & breweries to casinos and supper clubs). We want to give our guests a real taste of America's Heartland. To offer help with local details of these post tours contact Steve@stevewerblow.com for California; mark@mooreagphotos.com for Wisconsin; and Lora.Berg@sdstate.edu for SD/IA/MN tours.
To achieve these efforts, we're looking for financial sponsorship commitment from our supportive agricultural community. Sponsorship Co-chairs Gregg Hillyer (Gregg.Hillyer@dtn.com) and Karen McMahon (karenkmcmahon@icloud.com) and their committee offer a wide variety of opportunities to get your message out to a global journalist and communicator audience, as well as U.S. editors.
Watch for more details on www.ifaj2019.org and for ongoing updates on our Facebook page: AMS IFAJ 2019. The goal is to have complete details on the website before the end of the year, with registration opening in February 2019.
Join us!