Save the Dates for the 2024 Ag Media Summit in Kansas City, MO! 
AMS will be August 4 – 7, 2024, in Kansas City, MO. More information coming soon — be sure to visit the AMS website!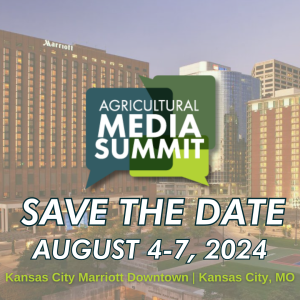 Five Reasons to Attend Ag Media Summit
Opportunities to network with industry leaders and peers.
Sharpen existing skills and learn new ones.
Connect with companies at the InfoExpo Trade Show.
Explore North Carolina's agriculture industry during pre-conference tours.
Celebrate ag media's best and brightest at the annual awards banquet.
AMS 2023 in Palm Springs


2022 Ag Media Summit
ACN Memories at AMS
The 2022 Ag Media Summit may be over, but the lessons learned, fellowship with ACN Members and cherished memories will stay with us forever! Click below to see some of the treasured moments captured by ACN Member Chuck Zimmerman.
2022 Ag Media Summit Photo Gallery

The Agricultural Media Summit (AMS) is a joint meeting of the Agricultural Communicators Network, the Livestock Publications Council and the Connectiv AgriMedia Committee.