By Tyler Harris, Editor, Farm Progress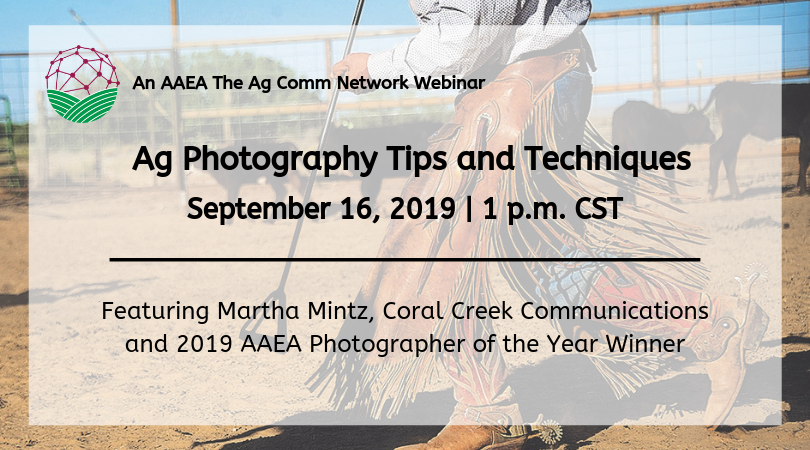 Greetings,
September is here, and with harvest right around the corner, it's a good time to hone your photography skills as you prepare to capture that perfect photo of a combine in the field this fall – or planter in the field next spring.
Join the Photography Special Interest Group for an upcoming webinar featuring this year's AAEA Photographer of the Year Award winner, Martha Mintz, and learn about photography tips and techniques from a veteran ag photographer.
Mintz, of Corral Creek Communications in Billings, Montana, has over 15 years of experience in public relations, writing, and photography, and is currently a freelance writer and photographer for The Furrow. In the webinar, set for Monday, September 16 at 1 p.m. CST, Mintz will discuss photos from her award-winning portfolio and other memorable photos taken over her the course of her career, challenges, settings, and the stories that led her to them. She will also discuss some of the latest skills she's developing – including capturing and stitching the right images together for panoramic scenes – before opening up to questions from listeners.
Interested participants are invited to submit questions to Mintz in advance via email: martha.o.mintz@gmail.com.
You can learn more about Corral Creek Communications and see photos from Mintz's portfolio on her Facebook page.
To register for the webinar visit https://aaea.memberclicks.net/ag-photography#/. Can't attend the webinar? No problem! AAEA members can view archived webinars agcommnetwork.com.