By Rachel Peabody, Communications Manager, Illinois Soybean Association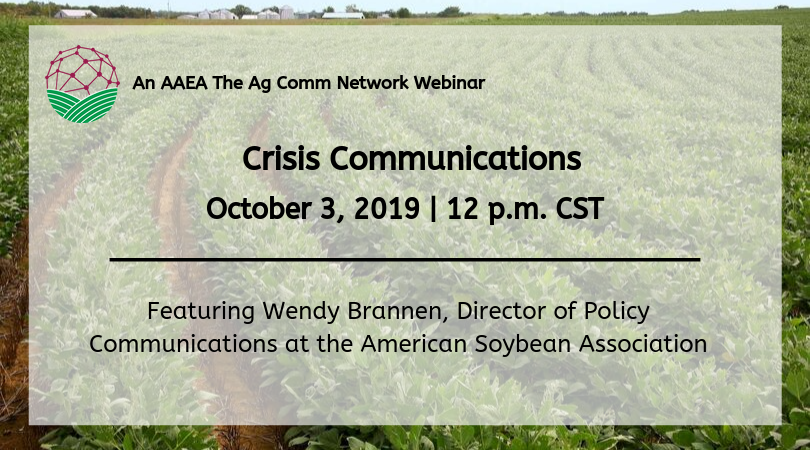 View all of our webinars here.
We likely all have a continuing education goal for the year. Many of us attend conferences, read books, seek out mentors and look for growth and development opportunities that help us home in on our craft.
For ag association communications professionals, the AAEA Ag Communications SIG hopes to foster that development by allowing members to learn from our peers, and who just so happen to be some of the best in the business at what they do.
Last fall, association communicators completed a survey about webinars and provided input on best timing and desired topics. That opportunity showed that there is a strong interest in media relations and a desire to learn best practices in that space as it relates to managing response in times of crisis.
Enter Wendy Brannen, Director of Policy Communications at the American Soybean Association, located in Washington, D.C. On April 4, 2018, when news that the China tariffs against U.S. soybeans were announced, Brannen and her team were prepared. They helped the soybean industry navigate through one of the biggest news days of recent history, and their media relations efforts on soybean tariffs continue today.
Please join the Association Communicators SIG on Thursday, October 3, from 12:00-12:30 p.m. CT to hear from Wendy and learn tips on how to position your association for media relations success on the day of your industry's critical announcement.
Please contact Association SIG co-chairs, Rachel Peabody, peabodyr@ilsoy.org, or Joy Carter Crosby, joycrosby@gapeanuts.com, for more information.