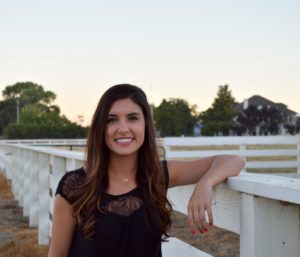 Name: Lauren LaGrande
School: Texas Tech University
Major: Agricultural Communications
Classification: Graduate Student
What are your career aspirations? After receiving my master's in agricultural communications, I hope to serve the agricultural industry at capacity where I am helping farmers utilize industry's new technology, production methods, and conservation programs. From either working with extension or commodity groups, I hope to one day help prevent miscommunications and lessen the knowledge gap that sometimes occurs between farmers and industry organizations/academia.  
Why did you join AAEA? My first interaction with AAEA professionals was at Agricultural Media Summit. I was so impressed with their passion for the industry and commitment to helping the next generation of agricultural communicators, that I wanted to find out more about AAEA and join the organization. I wanted to be able to have a network of professional industry leaders to exchange ideas, discuss issues, and share goals with.