By Kelsey Litchfield, Ag Comm Network Podcast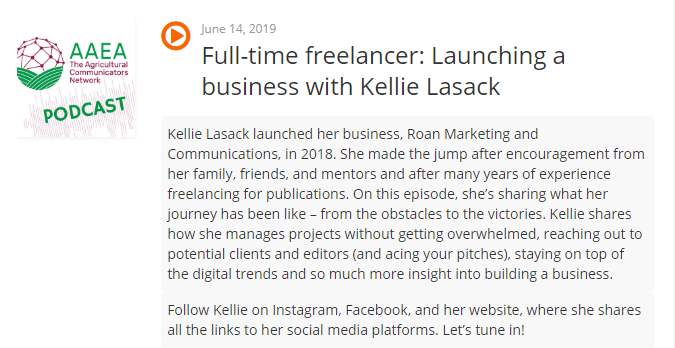 CLICK HERE TO LISTEN ON PODBEAN
I love seeing small businesses grow from the ground up and when I first met Kellie Lasack last year at Ag Media Summit, I knew I wanted to hear more of her story! Fast forward to almost a year later and Kellie joins Holly Spangler and I on today's episode to share her journey she's made so far.
Kellie launched her business, Roan Marketing and Communications, in 2018. She made the jump to go full-time and follow her passion after encouragement from her family, friends, and mentors. On this episode, she's sharing what her journey has been like – from the obstacles to the victories. Kellie shares how she manages projects without getting overwhelmed, reaching out to potential clients and editors (and acing your pitches), staying on top of the digital trends and so much more insight to building a marketing and communications business.
In this episode, Kellie references the AAEA Freelance SIG and if you're a freelancer, you can join the Facebook group by clicking here. It's a fantastic community to ask advice and get insight on your own freelance career.
You can follow Kellie on Instagram, Facebook, and her website, where she shares all the links to her social media platforms. Let's tune in!