December 15, 2017 – March 31, 2018
Invite your colleagues to join AAEA today! To thank you for your recruitment work, a variety of awards will be available for members who participate. Participants will advance to the next level when they reach the specified number of members recruited. At the end of the contest, participants will select one award from the final level that they reached. Participants should be sure to place their name as the recruiting member on each application distributed or remind the referred member to type/write their name on the membership form in the "Recruiting Member" area.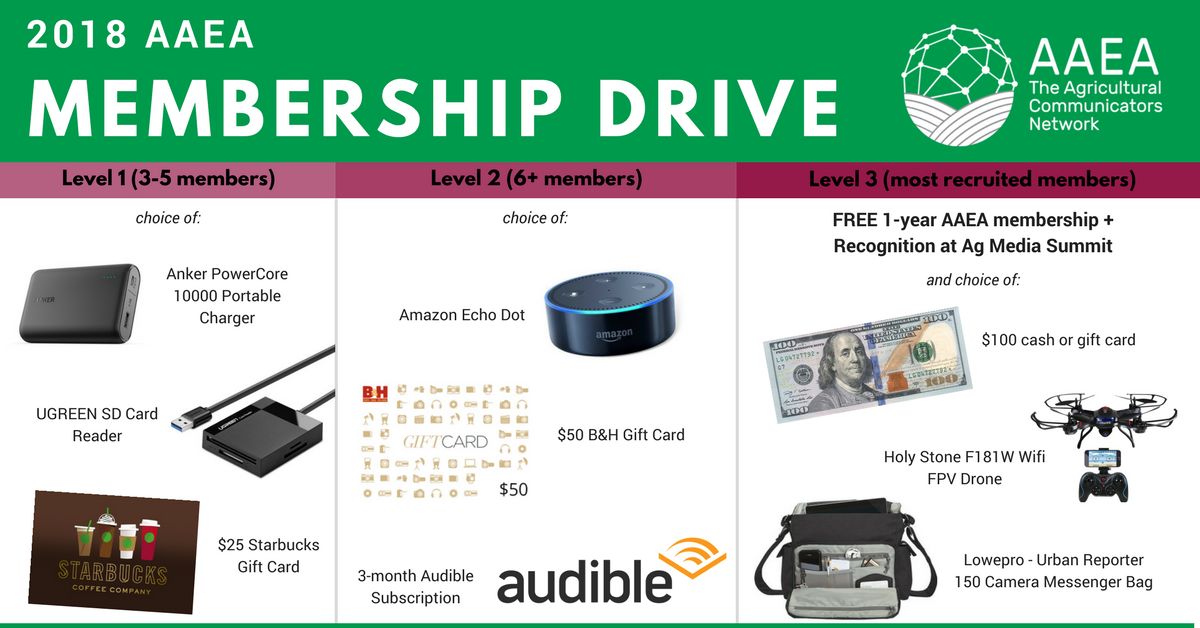 Contest Rules
Name must be listed in the "Recruiting Member" section of the application in order to receive credit

Drive begins December 15, 2017 and ends March 31, 2018

To be eligible to participate, recruiting member must be in good standing with their account paid in full

All referred members must submit full payment by April 15, 2017

Referred delinquent members will receive discounted member rate during drive dates (use the application links below to ensure discounted rates)

Recruiting members must target new members (someone who has never been a member of AAEA) and delinquent members (AAEA members who have not renewed since 2016). Members who renewed in 2017 cannot be referred.

If you finish in level two but do not wish to choose from those prizes, you may select a reward from level one.
Important Links
Level 1 (3-5 members)
---
Level 2 (6+ members)
---
Level 3 (most recruited members)
---
Announced at Ag Media Summit